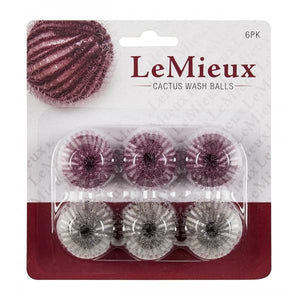 LeMieux Cactus Wash Balls
Regular price
N$300.00
N$0.00
Remaining quantity:
The LeMieux Cactus Wash Balls are an easy, eco-friendly way to remove hair from your laundry. Designed to be placed inside a wash bag with a saddle pad or other item, these collect loose hair while releasing stubborn dirt and stains.
Key Features:
Cactus Balls for Laundry
Collect Hair, Fur, and Loose Fibers
Release Stubborn Stains and Dirt
Eco-Friendly
Reusable
Product Details
Instructions: Place 4-6 Wash Balls inside a wash bag with saddle pad. Wash with non-biological detergent as per the washing instructions. 
Handy Tip: Place the Wash Balls in the underside of the folded pad for maximum hair removal.
---
Share this Product
---
More from this collection